The UFC Fight Night is one of the most popular sports events which most MMA fans are waiting to watch. The promotion has dropped many special events that involve the top fighters in the UFC competitive verse, giving the reasons to the punters to always stick to their favorite channel to watch the UFC Fight Night.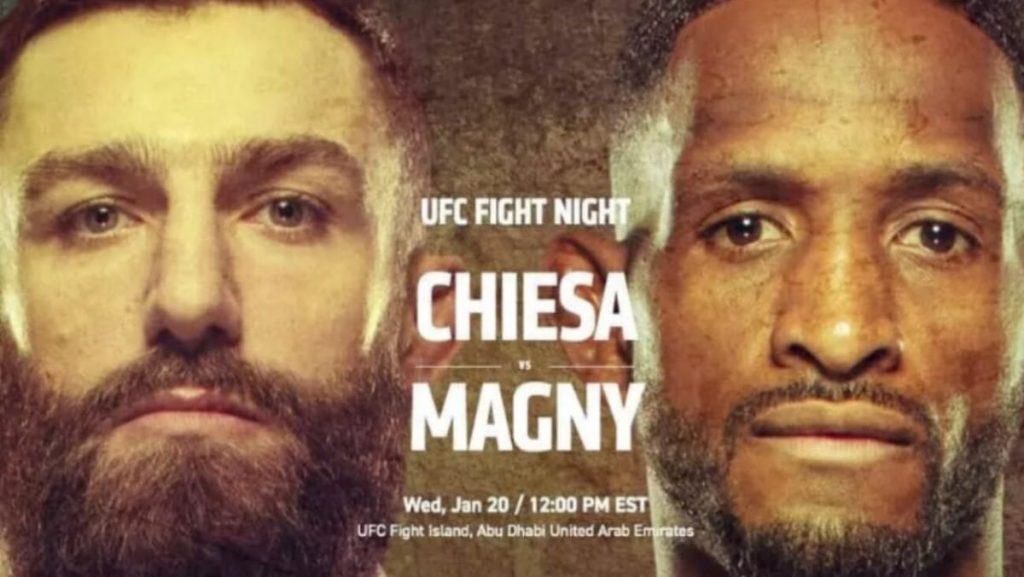 If for any reason you are still looking for the best way to watch the UFC Fight Night event, you have come to the right place since we are going to share the methods for you.
UFC Fight Island 8: Chiesa vs. Magny Watch Online
UFC Fight Island 8: "Chiesa vs. Magny" entire fight card can be viewed via the ESPN+ streaming app.
Subscriptions cost $5.99 per month.
UFC Fight Island 8 Main Card on ESPN/ESPN+ (12 p.m. ET):
170 lbs.: Michael Chiesa vs. Neil Magny
170 lbs.: Warlley Alves vs. Mounir Lazzez
205 lbs.: Vinicius Moreira vs. Ike Villanueva
125 lbs.: Roxanne Modafferi vs. Viviane Araujo
125 lbs.: Tyson Nam vs. Matt Schnell
145 lbs.: Lerone Murphy vs. Douglas Silva de Andrade
UFC Fight Island 8 Prelims Card on ESPN/ESPN+ (9 a.m. ET):
135 lbs.: Ricky Simon vs. Gaetano Pirrello
185 lbs.: Omari Akhmedov vs. Tom Breese
125 lbs.: Zarrukh Adashev vs. Su Mudaerji
185 lbs.: Dalcha Lungiambula vs. Markus Perez
125 lbs.: Francisco Figueredo vs. Jerome Rivera
155 lbs.: Mike Davis vs. Mason Jones
135 lbs.: Umar Nurmagomedov and Sergey Morozov
125 lbs.: Manon Fiorot vs. Victoria Leonardo
There have been some changes in the world of UFC in terms of viewership. Without further ado, let's see the available options for you.
ESPN+
Starting from two years ago, UFC has been partnering with ESPN+ to provide the UFC events coverage. In the contracts, ESPN+ is responsible to headline the first fight night. This service has the exclusive right to cover every UFC event. However, this service is only available on US soil and selected areas. If you're out of the area, you may experience a blackout. Use VPN service to unlock the service. You need to subscribe to the ESPN+ service to attain the coverage of Fight Night.
UFC Fight Pass
It is crystal clear that it can be the most sensible solution for you to take the UFC Fight Pass to watch your favorite Fight Night event. Well, it is an official channel provided by the UFC itself.
From there, you can watch each match and live events, including Fight Night.
You can also purchase PPV through this platform. It only cost nine dollars per month. Keep in mind that PPV is separated. The good thing here is that UFC TV is available worldwide. No matter where you are, you will have the same opportunity as others to get access to this provider.
BT Sports
If you cannot use ESPN+ because you are in Britain or Ireland, you don't need to worry. All you need to do is just to switch to the BT Sport channel and use your compatible device to gain access to the UFC Fight Night. We know that the time difference applies. It is a bit late for British viewers. But you don't need to worry. The BT Sport offers spoiler-free features for their customers. So, you will be free from spoilers to preserve the elements of surprises. BT Sport is available on many compatible devices. But if you want to watch UFC Fight Night through your conventional TV device, you could view the fight on BT Sport 1 HD. Consider using VPN if you are outside the UK.
TV Live Platforms
There are many TV live platforms or streaming services that offer you access to UFC Fight Night. But we will only focus on the best ones.
The first one we'd like to recommend is Sling TV. It is probably the most affordable service that we recommend. There are three options: Orange which costs $25, Blue which costs $25, and Orange + Blue which costs $40 per month. I'd suggest you pick Orange + Blue because it can save you around $10 per month. Not to mention that you can also enjoy all of the features without any hassle.
The next recommendation is Hulu TV. We have known this as one of the best on-demand video platforms. But the Hulu with Live TV plan is also a recommended choice for UFC lovers who want to follow the UFC Fight Night. There are a couple of channels that you can enjoy that you won't probably find in other providers. For your regular Fight Night event, Hulu TV can also be a great alternative for you.
YouTube TV comes as our next recommendation. If you have been familiar with this video hosting service, then it will be easy to like YouTube TV too. YouTube TV comprises high-quality features and services which only cost you $40 per month. ESPN is also included so that you can watch every UFC Fight Night event you want.
Fight Night through Reddit
Reddit is one of the top-notch social media platforms for cord-cutters and common sports lovers. If you have a user in Reddit, you could browse the list of Subreddits. Eventually, you will find good guys who are willing to share their free streaming links. Be careful, though. Don't click the unhealthy links since these will harm your device.